Discover Beirut Nightlife: The Ultimate Guide for Nocturnal Enthusiasts
In the heart of the Middle East lies a city that never truly sleeps, Beirut. While it's a historic city by day, with ancient ruins and bustling souks, by night, Beirut transforms into a paradise for nocturnal enthusiasts.
A legendary nocturnal destination, BO18 is not your ordinary club. It's an experience. Designed as a bomb shelter, its retractable roof allows partygoers to dance under the stars, whilst its signature coffin-shaped seating adds to its mystique. Here, expect a blend of the latest hits and timeless classics.
Dance away, then refuel at Barbar known for its savory shawarmas and juicy kebabs. For stay:
Le Gray: A blend of modern luxury with classic elegance, it boasts a rooftop pool and offers breathtaking views of the city.
Saifi Suites: A chic boutique hotel with art deco themes, it's renowned for its personalized service.
More than a club, it's a theatre of music. Hosting multiple acts throughout the night, ranging from rock bands to ethnic tunes, you're not just dancing but traveling through various musical worlds.
Nearby:
Staybridge Suites: Ideal for both short and extended stays, these suites have plush interiors and all modern amenities.
Tawlet Beirut: This culinary delight spotlights Lebanon's diverse regions through traditional dishes.
Boasting spectacular views of the city, SkyBar is the epitome of Beirut glamour. Dress to impress and immerse yourself in this rooftop haven, dancing under the stars.
Elevate your party experience with panoramic views.
Phoenicia Hotel: A legendary hotel with luxurious rooms, spas, and pools. It offers unparalleled Mediterranean views.
Mosaic Restaurant: Dive into a lavish international breakfast buffet.
A pioneer in the nightlife scene, White is synonymous with world-class DJ sets and an unparalleled light show. This rooftop club offers an eclectic blend of tunes and an upscale crowd.
Be swept away by music under the stars. Four Seasons Hotel: It redefines luxury with impeccable service, spas, and pools. Cafe Em Nazih: An authentic Lebanese dining experience, from mezzes to grilled specialties.
Known for its futuristic design and cutting-edge technology, Spine is where music and architecture merge, delivering an out-of-this-world experience.
For those seeking an avant-garde clubbing experience. O Monot Boutique Hotel: It exudes contemporary charm with rooftop bars and a tranquil pool. Hotel Dining: Experience Lebanese flavors with a modern twist.
A newcomer, yet making waves. Fabrk's urban vibes and fresh beats make it the go-to spot for those seeking something a little different.
Industrial design meets urban vibes.
Radisson Blu Martinez: This hotel offers Mediterranean dining, a wellness center, and an indoor pool.
Nearby Eateries: Explore the rich array of local and international cuisines at Zaitunay Bay.
Elegance meets beats at IRIS. Located in the heart of the city, it's the perfect place for sunset cocktails that transcend into unforgettable nights.
Dance with the city's skyline as the backdrop.
The Smallville Hotel: An art-centric hotel with chic designs and a notable rooftop bar.
Divvy: Share a contemporary Lebanese meal with friends.
When summer hits Beirut, The Garten's avant-garde design and world-class DJ lineup make it a seasonal favorite.
Gefinor Rotana: With stunning city views, its culinary offerings span global flavors. Leil Nhar: Savor an array of sandwiches, burgers, and Lebanese classics.
A gem for those seeking more alternative beats. With an intimate setting, it's perfect for close encounters of the musical kind.
Citea Apart Hotel: Modern, spacious apartments with home-like amenities.
Al Falamanki: From manakeesh to foul, indulge in a Lebanese breakfast spread.
Venturing Beyond the Clubbing Scene
While the nightclubs of Beirut are a primary allure for many, the city's essence is also infused in its everyday life. Here's a deeper dive into that quintessential Beirut experience.
Before the sun sets and the bass drops, immerse yourself in the cultural tapestry of Beirut. Explore the ancient Roman Baths, or wander through the labyrinthine corridors of Byblos, one of the world's oldest cities. The National Museum of Beirut offers a journey through the ages, while the contemporary art at Beirut Art Center provides a stark and beautiful contrast.
Corniche, a long seaside promenade, is perfect for an evening stroll. Witness the sunset over the Mediterranean Sea and catch a glimpse of the iconic Raouché Rocks. Stop by one of the many street vendors for a taste of freshly roasted corn or a sip of aromatic Arabic coffee.
Apart from the clubbing-induced midnight shawarma or manakish, Lebanese cuisine offers a rich palette of flavors. Enjoy a mezze lunch at Em Sherif with its opulent array of cold and hot appetizers. For a more casual setting, Zaatar w Zeit delivers a modern twist on traditional Lebanese favorites.
The charm of Beirut lies in its unpredictability. Venturing into its alleyways can lead to aromatic souks, selling everything from fragrant spices to intricate handicrafts. Hammoud Roastery in Saida is a must-visit for those keen on bringing back authentic Lebanese sweets.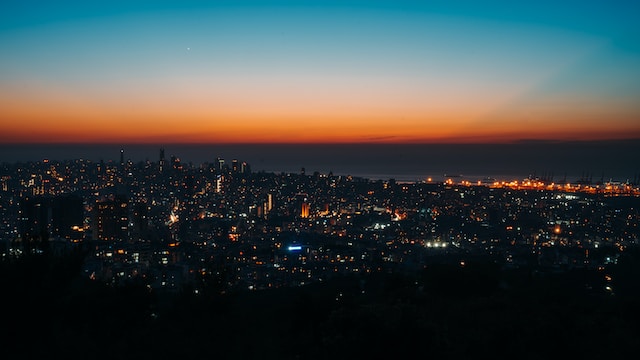 Accommodations with a Cultural Spin
For those keen on experiencing Beirut's rich history, the Albergo Hotel is an exquisite boutique hotel that exudes old-world charm with its antique furnishings and personalized service. Another recommendation would be the Baffa House, located in the historic district of Mar Mikhael; this bed and breakfast offers a cozy Lebanese home feel.
Beirut is a city of contrasts, and while it pulsates with life and energy, travelers are always advised to be updated on regional advisories, stay vigilant, especially during late hours, and always inform someone trustworthy about their whereabouts.
Beirut, with its juxtaposition of the ancient and the ultra-modern, offers an experience like no other. Whether you're there to rave, relax, or rediscover, the city embraces you with open arms. Dance to its beats, taste its flavors, and bask in its rich history. Embrace the soul of the Middle East. Welcome to Beirut!