Festivals in times of Corona: Drive-in shows.

For several months now, the Corona virus has eradicated all performances, festivals and clubs around the world and it is unknown how long it will last. What is certain, is that the summer 2020 festive season will not take place as usual, and it may very well be postponed to many months later.
The current circumstances have led the music industry into thinking of creative solutions that will ease the unfortunate situation and thus, in fact, the drive-in performances were born. Denmark and Germany were the first to present the interesting concept.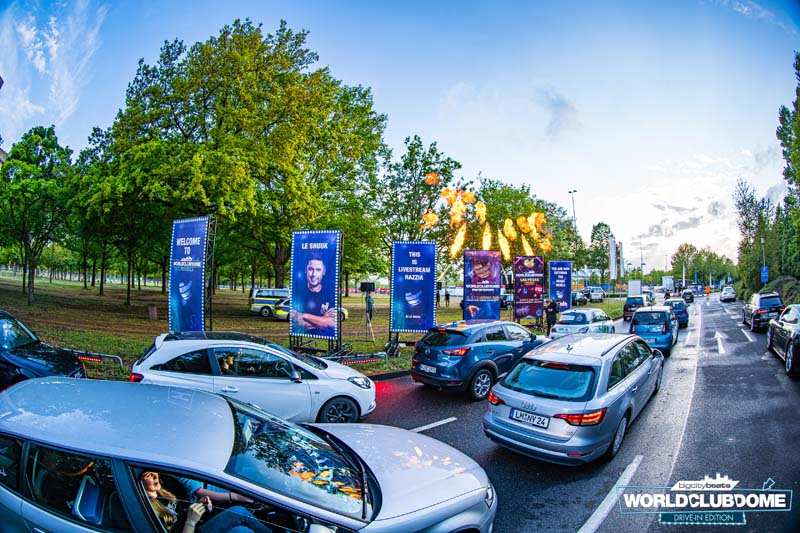 So, how does it work? Very simple – the audience arrives in their vehicles to the event and keeps sitting in there, whilst the artist is on stage and performs. It is forbidden to get out of the vehicle (except for going to the toilet and buy food / drinks), to open windows, to have an open roof and to hear music from the radio.
In the city of Aarhus, Denmark, the first drive-in performance took place when the popular Danish singer Mads Langer appeared to a crowd of 500 people at an event that was completely silent.

In Germany, the production company of the Giant World Club Dome Festival organized the world's first electronic drive-in party. The event took place in the city of Düsseldorf and attracted 1000 cars with a total of 2000 people.
The party took place in the evening and included two separate 90-minute gigs with incredible pyrotechnics, laser and smoke shows, as well as fun EDM music conducted by German super DJ Le Shuuk.
Both shows were sold-out and, following their success, two more Drive-In shows were set with different artists in May and one in June.
The event was attended by countless police and security forces who checked that visitors were complying with the laws in addition. At the end of the performance, the police looked from the outside on every vehicle that went onto the road. No special events were recorded at the drive-in and the vast majority complied with the rules and rules of conduct.
So is it worth it or not?
Hard to say for sure, on the one hand a ticket to a concert in Germany cost 75 euros per person for a 90 minute performance and the price is of course very expensive and not necessarily justified. On the other hand, what other alternative do people have? All the ravers in the world right now are in the same boat and miss their favorite hobby – going to parties and festivals, sadly this may be the last thing to come back after the Corona era, so we're content with little to do to break our boring routine.